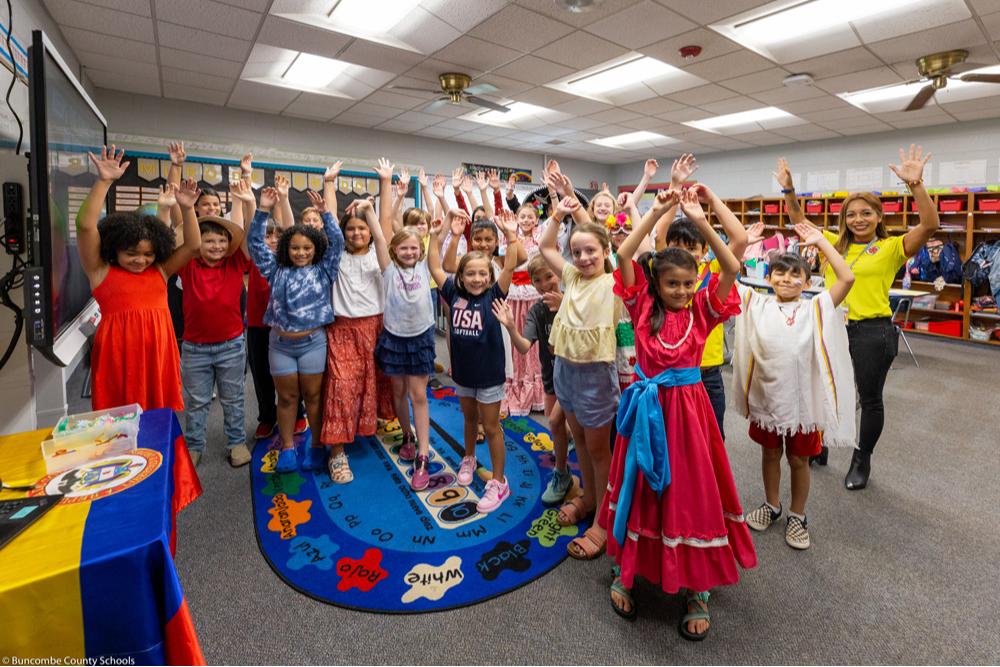 Apply now!
2022-2023 Dual Language Spanish Immersion Application (English)
2022-2023 Dual Language Spanish Immersion Application (Spanish)
What is Dual Language Spanish Immersion?
Dual Language is a form of bilingual education in which students are taught literacy and content in English and Spanish languages.

BCS offers a Dual Language Spanish Immersion Program, grades K-5. A continuum of extended language acquisition opportunities are available, grades 6-12.

According to research findings, it takes 5 to 7 years to acquire academic language in a second language (Collier and Thomas, 2012). Time and consistency are key.
Dual Language Program Benefits
• Prepares students to live and work in a global society
• Fosters bilingualism and bi-literacy
• Creates enhanced awareness of cultural diversity
• Enhances academic achievement
Testimonials
Sky Mallory: The 2020-21 school year was a doozy, and I was so worried with virtual school that our children would fall significantly behind. While they might have missed some lessons in social interaction, we were deeply impressed by the flexibility and knowledge of the teachers as they switched into virtual lessons, online assignments, and online classes to support our kids learning the appropriate skills.

Our youngest son is in the dual language program through Buncombe County Schools, and just finished up his second grade year. I remember he first felt challenged by the Spanish immersion in Kindergarten, but soon became a proficient speaker of Spanish. I'll hear him singing songs in Spanish, doing math in Spanish, and even writing stories (for fun, in his extra time) in Spanish. Knowing that he has this basis of a strong second language is a tremendous reassurance as the world becomes increasingly interconnected. I understand the importance of a good first language as well, and have not stopped reading to him in English. We speak only English in the home, since none of the rest of us has had this remarkable experience! I wish the program continued through Intermediate School.

It has also offered him an opportunity to directly appreciate the culture of Latin countries, from Mexico to Puerto Rico and Colombia, as his teachers and assistants have created direct learning opportunities to experience different stories, festivals, and ways of thinking. He has had a chance to make friends with kids who might not speak English as a first language. I hope that the relationships that this program has fostered continue to grow as we all could do with feeling a little closer to people who might not share our background.

Ms. Esparza at Candler Elementary School brought a sense of laughter and fun into her online-virtual class, and enabled the children to have a sense of connection and light in an otherwise dreary time.

We are grateful to Buncombe County Schools and its amazing staff for providing a quality education, with a sense of community and caring.
Cristina Reitz-Krueger:I wanted to share this with any parents considering the program for their child.

WE LOVE IT! I can speak as both a parent and a developmental psychologist and say that it's absolutely worth it. As a developmental psychologist, I can assure you that kids' brains are amazingly suited to learning two languages at once. This is the perfect age to start as it all comes so easily to them. If you have any concerns that learning Spanish will somehow hurt your child's English skills, you can rest easy. This is not the case. The two build on each other.
As a parent, I can speak to my own child's growth in this class. Before starting Kindergarten, she couldn't read in either language and didn't seem very interested in it. Now, as we approach the end of the year, our daughter is reading in BOTH English and Spanish. Also, I took Spanish for several years in college, and she is already better than I am! She loves to correct my accent and has already taught her little brother how to count in Spanish.
When we first started, I was a little worried that the transition to kindergarten PLUS being taught in an entirely different language would be overwhelming, or that she would struggle in other subjects, such as math. While I can't speak for every child, I can say that our transition was totally painless.
It has been a really exciting year for us. The Spanish addition has been fun and educational for everyone in our family. I really can't recommend this program or the teachers enough. I only wish it were a year-round program!
Megan Morgan:My daughter has been in the program at Candler for 3 years, and I couldn't be more proud of her progress. Even in the midst of pandemic education, Lucy has grown as a reader, writer and speaker in both English and Spanish. Candler dual language teachers are experts in student learning, and their classrooms are a place of culture, comfort, and growth.